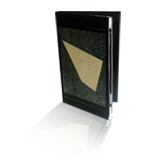 A Knife Romance
1988: edition of 25 plus 2 APs
508 x 432 mm; 66 pp.
Printed letterpress in several colours on T.H. Saunders mouldmade paper, with etching and blind embossing, silver and gold dusting and handwork. Black cloth binding, with illustrated paper boards. Printed slipcase. The book carries two poems, 'Knife' and 'Widow's Song', together with other fragments; there are also quotations from the Second Book of Kings, from Cymbeline, and a Dervish call to dance.
During my adolescence my mother kept burying my sheath knife in the garden to guard me from 'the crimes it might commit me to'. This almost farcically Freudian compulsion called forth a poem, 'A Knife Romance', many years later; thereafter a book in the 1980s.
The main poem was printed in the condensed woodletter of 'AbaB' and laid out on a table to reasonable typographic laws, as in 'Terror, Terror'. There was insufficient vertical space for the whole poem. The table was photographed in perspective and at an angle. Then the first six lines were removed, the next six added to the poem's foot, and the whole moved up and photographed again. The process was repeated until it was complete.
The resultant oddly wedge-shaped plates, bearing the words in apparent perspective, were photo-etched and printed while nestling in a background plate that positioned them and supplied a pale ground. The poem rolls like a film credit while shape – as knife or tombstone – cuts into the surface of the paper.
Meanwhile the story of Solomon, two women-who-would-be-mothers, a child and a knife is graphically alluded to. A surface as skin, or lung, was etched and contained a knife that roved. 'Widow's Song' recorded the sickening and demise of my mother. The ugly-mindedness of the poem and the knife's inherent violence is acknowledged by the history of the Nazi salute. The cut hand of the maker is shown in pain and triumph.
'A Knife Romance' was the first book to deploy graphic and verbal elements at its beginning to give tongue to a drama found in their articulation.
At the end mother and son as twinned weapons rest in a common grave.
Click on image below to view gallery